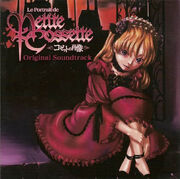 The Le Portrait de Petit Cossette Original Soundtrack was released on December 1, 2004 by Wint. It contains eighteen tracks by Yuki Kajiura, including the main theme music "Jewel" (宝石 Hōseki).
Track list
Edit
the main theme of Petit Cossette
somewhere I belong
moonflower
sadness
regret
love pain
unhallowed
leave me cold
breakdown
in a beautiful morning of May
a prophet's dream
undertow
float
fake jewel
silent ceremony
evocation
my love,so sweet
Hōseki (short size)
Performed by Marina Inoue
Ad blocker interference detected!
Wikia is a free-to-use site that makes money from advertising. We have a modified experience for viewers using ad blockers

Wikia is not accessible if you've made further modifications. Remove the custom ad blocker rule(s) and the page will load as expected.